May Business After Hours #2 - Bloomsburg University
400 E. 2nd St.
Bloomsburg
,
PA
17815
United States
Soltz Hall is located at 400 E. 2nd St. on the Bloomsburg University campus. Attendees may park in the tri-level parking garage at the corner of E. 2nd and S. Penn St. The top level is reserved for this event, but attendees may also park in the lower two levels if necessary.
Wednesday, May 30, 2018 (4:30 PM - 6:30 PM) (EDT)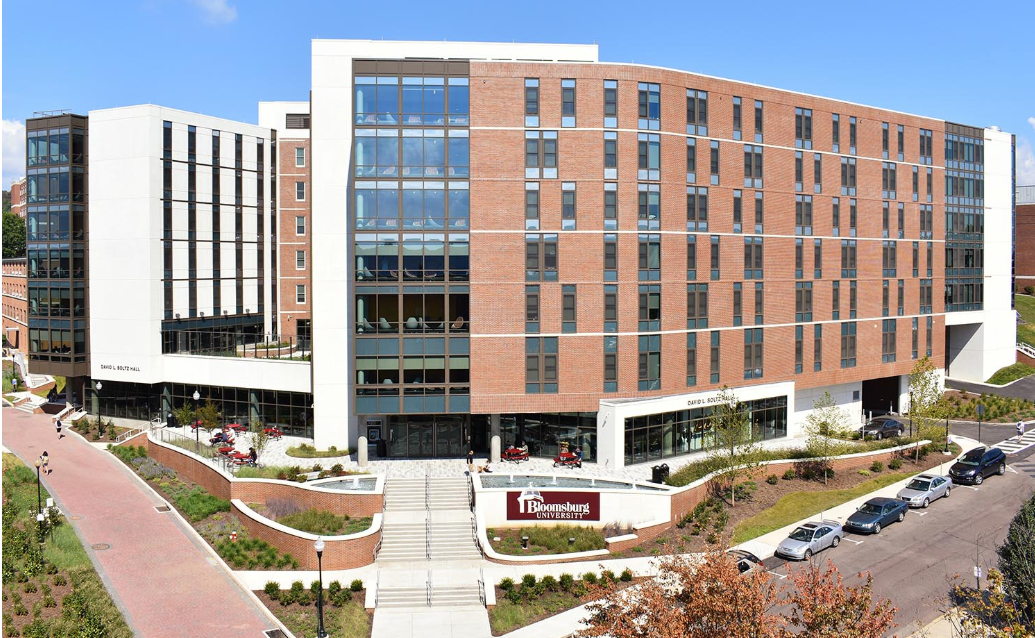 Bloomsburg University, Columbia County's largest employer, invites Chamber members and the local business community to its newest facility and one of the tallest buildings in Bloomsburg, Soltz Hall (above), for an evening of heavy hors d'oeuvres, drinks (both alcoholic and non-alcoholic), and networking. The event will take place on Soltz Hall's second floor lounge and (weather permitting) outdoor patio (in the middle left portion of the photo above). Attendees will have an opportunity to take a tour of the modern Soltz Hall, including a trip up to the 6th floor, which has a stunning view overlooking downtown Bloomsburg. BU IT's Institute of Interactive Technologies will also be on hand to give attendees a chance to experience its virtual and augmented reality technology. Also slated to attend are representatives from are BU's College of Science & Technology, its STEM Magnet program, and its Professional Engagement staff, which coordinates with local businesses and organizations to place BU interns or engage BU students for special project needs. BU president Dr. Bashar Hanna, who is competing his first year at the helm of the University, will also be in attendance. There will be several door prizes featuring BU mugs, pins, etc. Additionally:


Anyone from a member organization that attends this Business After Hours, and/or the Business After Hours on June 20 at First Keystone Community Bank, on July 18 at Frosty Valley Country Club, or on Aug. 15 at Ronald McDonald House of Danville, will be entered into a drawing to win:

- An opportunity to throw out a ceremonial first pitch before the Williamsport Crosscutters game on Aug. 22, which is Columbia-Montour Community Night

or

- A live marketing table in the concourse before the game on Aug. 22 to meet potential customers and distribute informational and/or promotional materials about your business or organization

The drawing will be held on Aug. 16 and the winners notified by phone the same day. Good luck to all who attend.
Videos
Check out Soltz Hall, site of the next Chamber Business After Hours