1301 Bloom Rd.
Danville
,
PA
17821
United States
Friday, October 18, 2019 (9:00 AM - 3:30 PM) (EDT)
Note: To register, members should enter their name and/or email in the Step 1 box, then hit the search button. After the system recognizes you as a member, the member price will appear in Step 2.

Bringing nine world-class leadership experts to one stage in a single day, Leadercast Women provides attendees with a transformative leadership experience. Leaders from all walks of life attend this event in October in Atlanta and at Host Sites across the globe to hone their leadership skills and styles. Attendees will take home wisdom and tools they can apply immediately from an all-female cast of speakers.

For the first time, the Columbia Montour Chamber is making this inspiring and educational event available in the Columbia/Montour region, with the Barn at Frosty Valley as the host site, and Geisinger as the local Host Site and exclusive healthcare sponsor.

At Leadercast Women 2019, attendees will be emboldened to take courage in their daily lives, whether it be in the workplace or at home. At this one-day leadership event, nine expert leaders will share their inspirational stories of courage while also teaching us steps to enable change in our lives. Leadercast Women features an all-female cast, but it's not a women's event. Both men and women are invited to hear from the leaders who will share from our stage. Leadercast Women attendees will walk away with the courage to make a difference in their lives, the boldness to take control of their careers and the confidence to lead themselves and others to better futures.

When we consider courage, firefighters, policemen, pilots and military personnel come to mind. But courage isn't reserved for a select group of leaders. Opportunities to take courage rise every day in many forms, and it's up to us to seize those moments in our leadership. When you lead regardless of your fears and take risks for the chance to further your organization or community, you are leading courageously.

See below for the list of speakers. In addition to these nine speakers, there will also be a special lunch keynote by local motivational speaker and singer/songwriter Kj Reimensnyder-Wagner, who will talk about "Carrying the Torch."

Remember that YOU have the power to carry the torch. No need to pass on problems to perpetuate frustration or anxiety in others, too. It just circles back to you. Choose to LEAD to the positive! Discovering problems is insightful, but finding and offering solutions is an even better path! There's peace in understanding the difference. And those around you will notice. Audience participation and upbeat messages are part of this life-changing luncheon keynote.

Registration costs are below and include lunch, as well as coffee and pastries in the morning, from the Iron Fork.

Chamber Members - $75
Non-Members - $95

For additional information, visit Leadercast Women's website.



Leadercast Women Event Day Schedule
8 a.m.: Barn at Frosty Valley doors open
8-9 a.m.: Registration/Coffee & Pastries
Session 1: 9-10:30 a.m.
Kate Delaney
Kendra Scott | Moderated interview with Dana Barrett
Susan Packard
10:30-11 a.m. Networking Break
Session 2: 11 a.m.-12:30 p.m.
Francesca Gino
Glennon Doyle | Moderated interview with Dana Barrett
Deshauna Barber
12:30-1 p.m. Lunch

1-1:45 p.m. Keynote Speaker - Kj Reimensnyder-Wagner - "Carrying the Torch"
1:45-2 p.m. Break
Session 3: 2-3:30 p.m.
Priya Parker | Moderated interview with Dana Barrett
Laura Ling
Luvvie Ajayi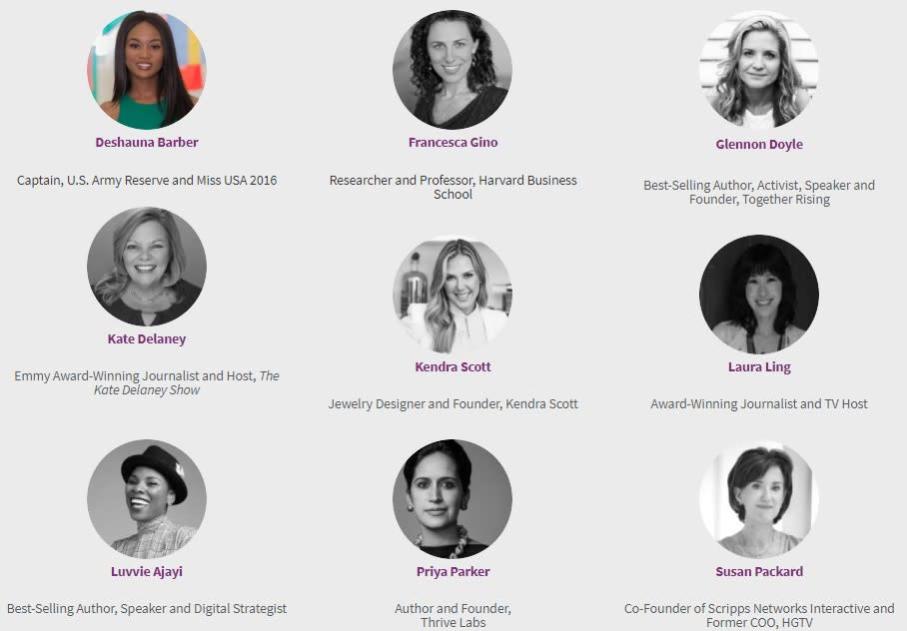 Event Contact:
Matt Beltz
Contact Organization:
Columbia Montour Chamber of Commerce